Antiparasitic Activity of Natural and Semi-Synthetic Tirucallane Triterpenoids from Schinus terebinthifolius (Anacardiaceae): Structure/Activity Relationships
1
Instituto de Ciências Ambientais, Químicas e Farmacêuticas, Universidade Federal de São Paulo, Diadema, SP 09972270, Brazil
2
Centro de Parasitologia, Instituto Adolfo Lutz, São Paulo, SP 01246902, Brazil
3
Centro de Ciências Aplicadas e Educação, Universidade Federal da Paraíba, Rio Tinto, PB 58297000, Brazil
4
Instituto de Química, Universidade Federal de Uberlândia, Uberlândia, MG 38400902, Brazil
*
Author to whom correspondence should be addressed.
Received: 12 March 2014 / Revised: 26 April 2014 / Accepted: 28 April 2014 / Published: 5 May 2014
Abstract
Leishmaniasis and Chagas are diseases caused by parasitic protozoans that affect the poorest population in the World, causing a high mortality and morbidity. As a result of highly toxic and long-term treatments, the discovery of novel, safe and more efficacious drugs is essential. In this work, the
in vitro
antiparasitic activity and mammalian cytotoxicity of three natural tirucallane triterpenoids, isolated from leaves of
Schinus terebinthifolius
(Anacardiaceae), and nine semi-synthetic derivatives were investigated against
Leishmania (L.) infantum
and
Trypanosoma cruzi
. Trypomastigotes of
T. cruzi
were the most susceptible parasites and seven compounds demonstrated a trypanocidal activity with IC
50
values in the range between 15 and 58 µg/mL. Four compounds demonstrated selectivity towards the intracellular amastigotes of
Leishmania
, with IC
50
values in the range between 28 and 97 µg/mL. The complete characterization of triterpenoids was afforded after thorough analysis of nuclear magnetic resonance (NMR) data as well as electrospray ionization mass spectrometry (ESI-MS). Additionally, structure-activity relationships were performed using Decision Trees.
View Full-Text
►

▼

Figures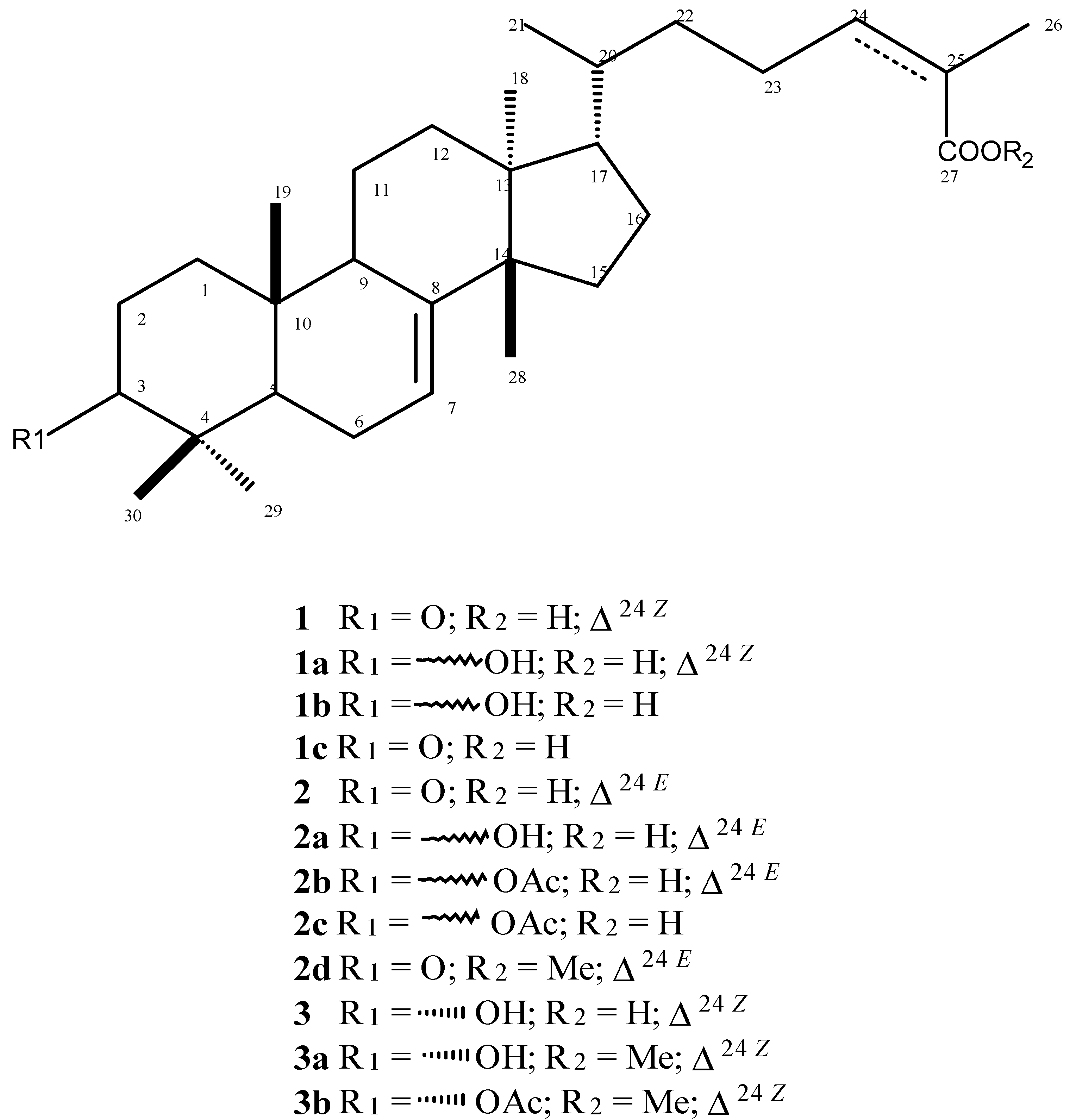 Figure 1
Share & Cite This Article
MDPI and ACS Style
Morais, T.R.; da Costa-Silva, T.A.; Tempone, A.G.; Borborema, S.E.T.; Scotti, M.T.; de Sousa, R.M.F.; Araujo, A.C.C.; de Oliveira, A.; de Morais, S.A.L.; Sartorelli, P.; Lago, J.H.G. Antiparasitic Activity of Natural and Semi-Synthetic Tirucallane Triterpenoids from Schinus terebinthifolius (Anacardiaceae): Structure/Activity Relationships. Molecules 2014, 19, 5761-5776.
Related Articles
Comments
[Return to top]