Comparative Study of Tributyltin Adsorption onto Mesoporous Silica Functionalized with Calix[4]arene, p-tert-Butylcalix[4]arene and p-Sulfonatocalix[4]arene
1
Department of Chemistry, Faculty of Science, University Malaya, Kuala Lumpur 50603, Malaysia
2
Department of Chemistry, Faculty of Science, Taibah University, Almadina Almonwara 30001, Saudi Arabia
*
Author to whom correspondence should be addressed.
Received: 27 February 2014 / Revised: 3 April 2014 / Accepted: 4 April 2014 / Published: 10 April 2014
Abstract
The adsorption of tributyltin (TBT), onto three mesoporous silica adsorbents functionalized with calix[4]arene,
p-tert
-butylcalix[4]arene and
p
-sulfonatocalix[4]arene (MCM-TDI-C4, MCM-TDI-PC4 and MCM-TDI-C4S, respectively) has been compared. Batch adsorption experiments were carried out and the effect of contact time, initial TBT concentration,
pH and temperature were studied. The Koble–Corrigan isotherm was the most suitable for data fitting. Based on a Langmuir isotherm model, the maximum adsorption capacities were 12.1212, 16.4204 and 7.5757 mg/g for MCM-TDI-C4, MCM-TDI-PC4 and MCM-TDI-C4S, respectively. The larger uptake and stronger affinity of MCM-TDI-PC4 than MCM-TDI-C4 and MCM-TDI-C4S probably results from van der Waals interactions and the pore size distribution of MCM-TDI-PC4. Gibbs free energies for the three adsorption processes of TBT presented a negative value, reflecting that TBT/surface interactions are thermodynamic favorable and spontaneous. The interaction processes were accompanied by an increase of entropy value for MCM-TDI-C4 and MCM-TDI-C4S (43.7192 and 120.7609 J/mol K, respectively) and a decrease for MCM-TDI-PC4 (−37.4704 J/mol K). It is obviously observed that MCM-TDI-PC4 spontaneously adsorbs TBT driven mainly by enthalpy change, while MCM-TDI-C4 and MCM-TDI-C4S do so driven mainly by entropy changes.
View Full-Text
►

▼

Figures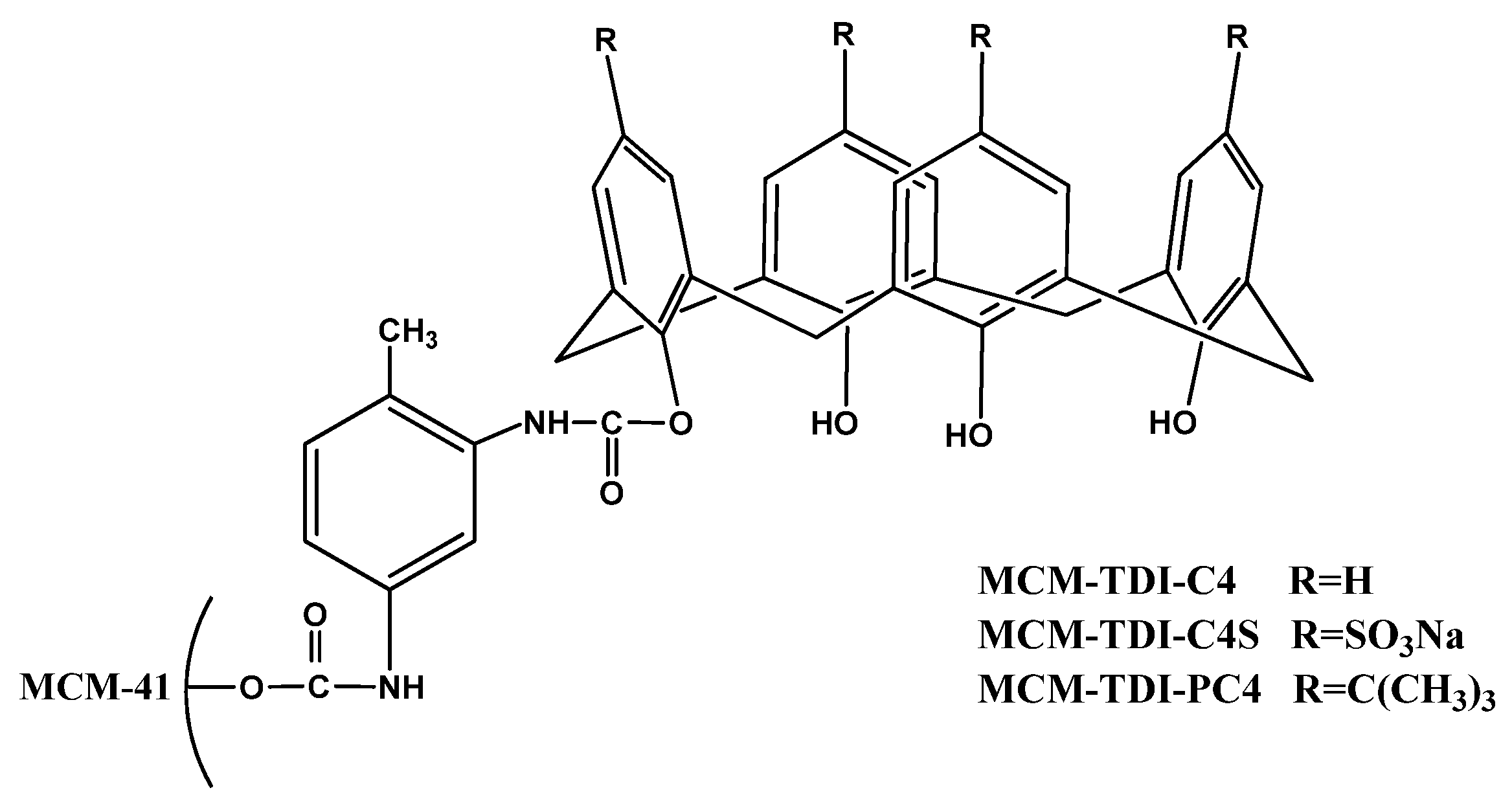 Figure 1
Scifeed alert for new publications
Never miss any articles
matching your research
from any publisher
Get alerts for new papers matching your research
Find out the new papers from selected authors
Updated daily for 49'000+ journals and 6000+ publishers
Share & Cite This Article
MDPI and ACS Style
Alahmadi, S.; Mohamad, S.; Maah, M.J. Comparative Study of Tributyltin Adsorption onto Mesoporous Silica Functionalized with Calix[4]arene, p-tert-Butylcalix[4]arene and p-Sulfonatocalix[4]arene. Molecules 2014, 19, 4524-4547.
Related Articles
Comments
[Return to top]