Rooibos Flavonoids Inhibit the Activity of Key Adrenal Steroidogenic Enzymes, Modulating Steroid Hormone Levels in H295R Cells
Department of Biochemistry, Stellenbosch University, Private Bag X1, Matieland 7602, South Africa
*
Author to whom correspondence should be addressed.
Received: 15 January 2014 / Revised: 15 March 2014 / Accepted: 19 March 2014 / Published: 24 March 2014
Abstract
Major rooibos flavonoids—dihydrochalcones, aspalathin and nothofagin, flavones—orientin and vitexin, and a flavonol, rutin, were investigated to determine their influence on the activity of adrenal steroidogenic enzymes, 3β-hydroxysteroid dehydrogenase (3βHSD2) and cytochrome P450 (P450) enzymes, P450 17α-hydroxylase/17,20-lyase (CYP17A1), P450 21-hydroxylase (CYP21A2) and P450 11β-hydroxylase (CYP11B1). All the flavonoids inhibited 3βHSD2 and CYP17A1 significantly, while the inhibition of downstream enzymes, CYP21A2 and CYP11B1, was both substrate and flavonoid specific. The dihydrochalcones inhibited the activity of CYP21A2, but not that of CYP11B1. Although rutin, orientin and vitexin inhibited deoxycortisol conversion by CYP11B1 significantly, inhibition of deoxycorticosterone was <20%. These three flavonoids were unable to inhibit CYP21A2, with negligible inhibition of deoxycortisol biosynthesis only. Rooibos inhibited substrate conversion by CYP17A1 and CYP21A2, while the inhibition of other enzyme activities was <20%. In H295R cells, rutin had the greatest inhibitory effect on steroid production upon forskolin stimulation, reducing total steroid output 2.3-fold, while no effect was detected under basal conditions. Nothofagin and vitexin had a greater inhibitory effect on overall steroid production compared to aspalathin and orientin, respectively. The latter compounds contain two hydroxyl groups on the B ring, while nothofagin and vitexin contain a single hydroxyl group. In addition, all of the flavonoids are glycosylated, albeit at different positions—dihydrochalcones at C3' and flavones at C8 on ring A, while rutin, a larger molecule, has a rutinosyl moiety at C3 on ring C. Structural differences regarding the number and position of hydroxyl and glucose moieties as well as structural flexibility could indicate different mechanisms by which these flavonoids influence the activity of adrenal steroidogenic enzymes.
View Full-Text
►

▼

Figures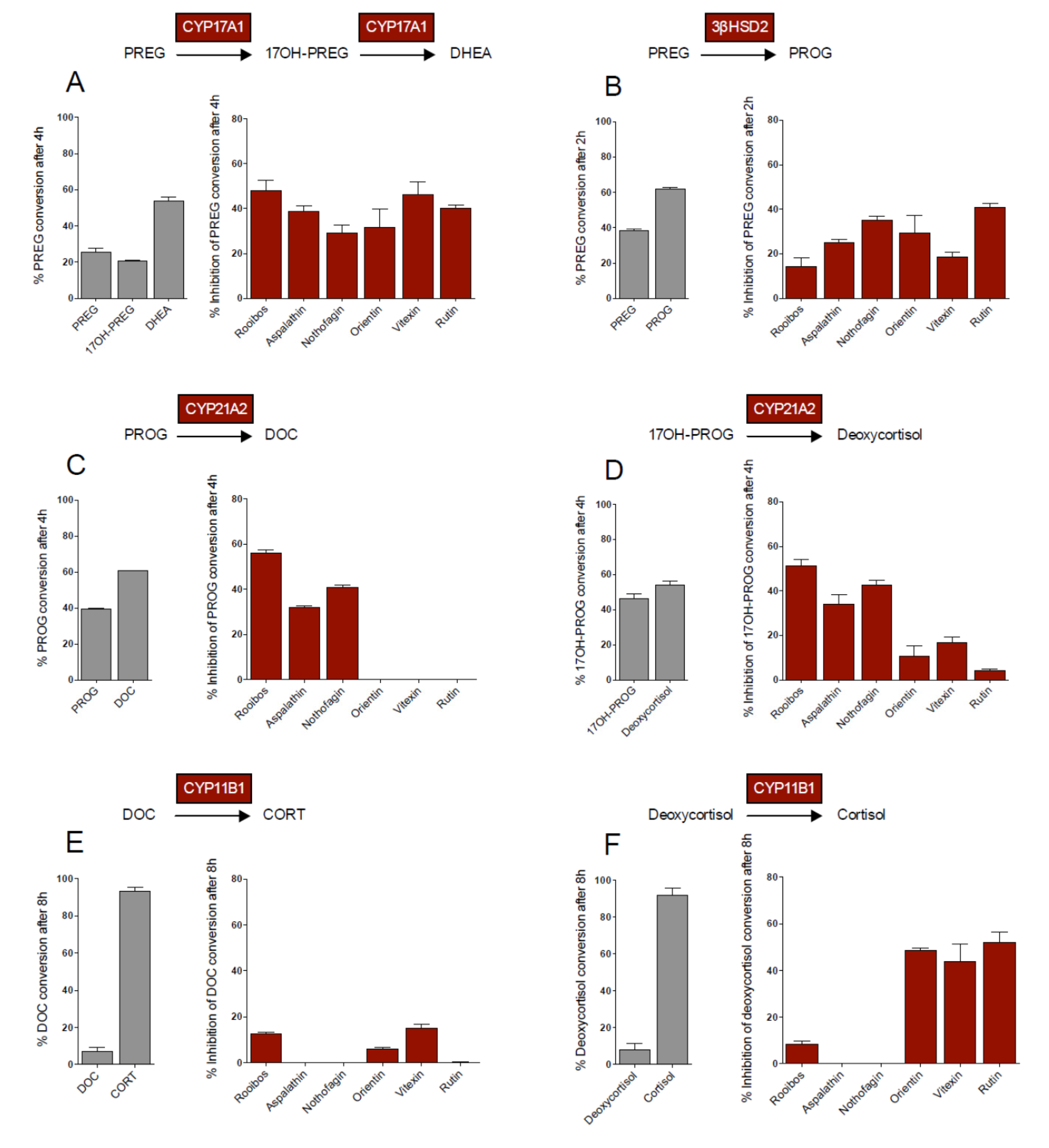 Figure 1
Share & Cite This Article
MDPI and ACS Style
Schloms, L.; Swart, A.C. Rooibos Flavonoids Inhibit the Activity of Key Adrenal Steroidogenic Enzymes, Modulating Steroid Hormone Levels in H295R Cells. Molecules 2014, 19, 3681-3695.
Related Articles
Comments
[Return to top]