Synergism of Cyclin-Dependent Kinase Inhibitors with Camptothecin Derivatives in Small Cell Lung Cancer Cell Lines
1
Ludwig Boltzmann Cluster of Translational Oncology, Vienna A-1090, Austria
2
Department of Surgery, Medical University of Vienna, Vienna A-1090, Austria
3
Department of Pathophysiology and Allergy Research, Center for Pathophysiology, Infectiology and Immunology, Medical University of Vienna, Vienna A-1090, Austria
*
Author to whom correspondence should be addressed.
Received: 31 October 2013 / Revised: 21 January 2014 / Accepted: 29 January 2014 / Published: 17 February 2014
Abstract
Advanced small cell lung cancer (SCLC) has a dismal prognosis. Modulation of the camptothecin topotecan, approved for second-line therapy, may improve response. Our recent finding of synergistic enhancement of the cytotoxic activity of camptothecin (CPT) by cyclin-dependent kinase 4 inhibitors is extended here to a panel of camptothecin analogs comprising 10-hydroxy-CPT (HOCPT), topotecan (TPT; 9-[(dimethylamino)-methyl]-10-hydroxy-CPT), 9-amino-CPT (9AC), 9-nitrocamptothecin (rubitecan), SN38 (7-ethyl-10-hydroxycamptothecin) and 10-hydroxy-9-nitrocamptothecin (CPT109) in combination with PD0332991, CDK4I, roscovitine and olomoucine. SCLC cell lines employed are chemoresistant NCI-H417 and DMS153 and the chemosensitive SCLC26A line established at our institution. The CPT analogs exhibiting highest cytotoxicity towards the three SCLC lines tested were SN38 and 9AC, followed by rubitecan, HOCPT, TPT and CPT109. NCI-H417 and DMS153 revealed an approximately 25-fold and 7-fold higher resistance compared to the chemosensitive SCLC26A cell line. Whereas the CDK4/6 inhibitor PD0332991 proved less effective to chemosensitize SCLC cells to CPT analogs, the CDK inhibitors CDK4I, roscovitine and olomoucine gave comparable chemosensitization effects in combination with 9AC, SN38, rubitecan and to a lesser extent with TPT and CPT109, not directly related with topoisomerase mRNA expression. In conclusion, small chemical modifications of the parent CPT structure result in differing cytotoxicities and chemomodulatory effects in combination with CDKIs of the resulting analogs.
View Full-Text
►

▼

Figures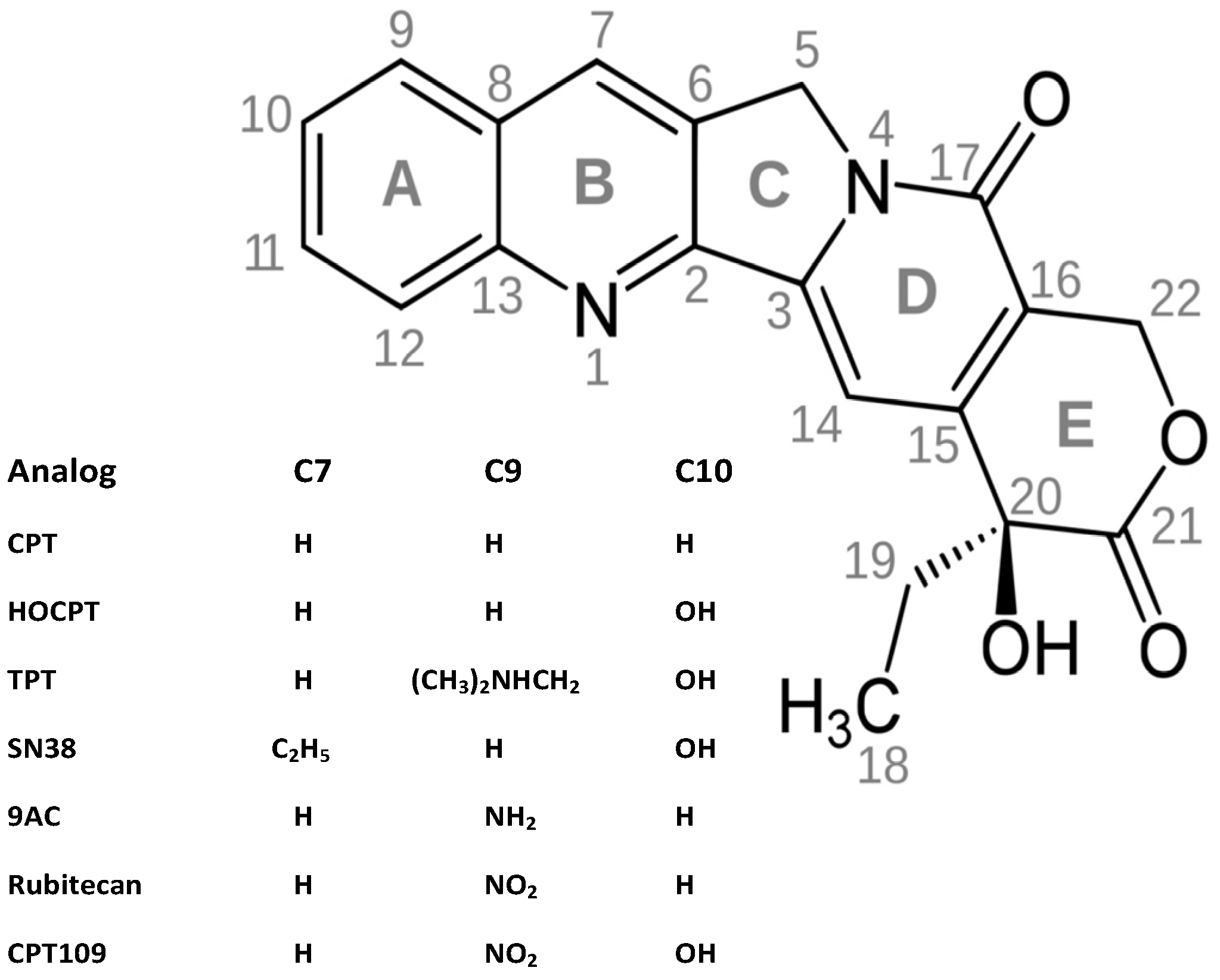 Figure 1
Share & Cite This Article
MDPI and ACS Style
Hamilton, G.; Klameth, L.; Rath, B.; Thalhammer, T. Synergism of Cyclin-Dependent Kinase Inhibitors with Camptothecin Derivatives in Small Cell Lung Cancer Cell Lines. Molecules 2014, 19, 2077-2088.
Related Articles
Comments
[Return to top]