Concerted Halogen Bonding and Orthogonal Metal-Halogen Interactions in Dimers of Lithium Formamidinate and Halogenated Formamidines: An ab Initio Study
Department of Chemistry, DePaul University 1110 W. Belden Ave., Chicago, IL 60614, USA
Received: 11 December 2013 / Revised: 6 January 2014 / Accepted: 14 January 2014 / Published: 17 January 2014
Abstract
Dimers of lithium formamidinate, CH(NH)
2
Li, and halogenated formamidines, HN=CHNHX, (X=Cl, Br, or I) are used as model systems to investigate simultaneous N-X···N and N-Li···N interactions, in tandem with orthogonal Li···X interactions. Geometry optimizations and energy calculations for the dimers are examined with the MP2 method and the M06-2X hybrid functional and the aug-cc-pVTZ basis set (the aug-cc-pVTZ-PP basis set is used for the iodine atom). Both methods predict the formation of a planar structure of C
2v
symmetry, regardless of the identity of the halogen atom. In this structure, the identities of the constituent monomers are essentially lost. Accordingly, the N-X···N interactions emerge as a rather symmetric quasi-linear N···X···N, where the covalent N-X bond in the halogenated formamidine is replaced by a partly covalent N···X interaction. Formation of the C
2v
structure is also driven by a fairly linear N···Li···N interaction parallel to the N···X···N interaction, and a Li···X interaction orthogonal to both the N···X···N and N···Li···N interactions. The strength of the interactions increases with the size of the halogen. The robustness of the interactions suggests that the dimers studied here or suitable analogues may find diverse applications including their use as novel polymeric synthons.
View Full-Text
►

▼

Figures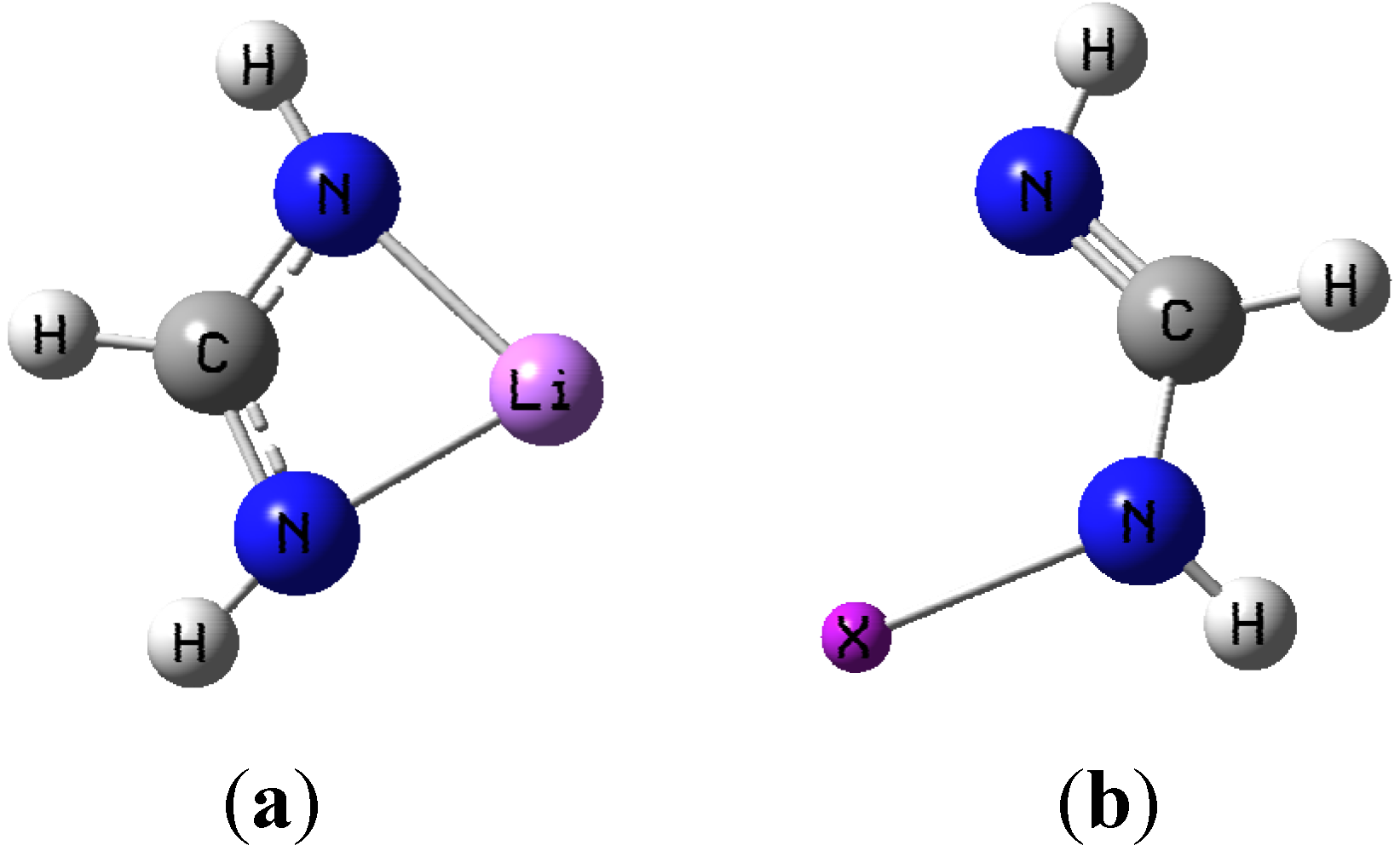 Figure 1
Share & Cite This Article
MDPI and ACS Style
Parra, R.D. Concerted Halogen Bonding and Orthogonal Metal-Halogen Interactions in Dimers of Lithium Formamidinate and Halogenated Formamidines: An ab Initio Study. Molecules 2014, 19, 1069-1084.
Related Articles
Comments
[Return to top]