Microwave Assisted Synthesis of Some New Thiazolopyrimidine, Thiazolodipyrimidine and Thiazolopyrimidothiazolopyrimidine Derivatives with Potential Antioxidant and Antimicrobial Activity
1
Chemistry Department, Faculty of Science, Cairo University, Cairo 12613, Egypt
2
Chemistry Department, Faculty of Science, Suez Canal University, Ismailia 41522, Egypt
†
Current address: Chemistry Department, Faculty of Science, Taif University, Taif 21974, Saudi Arabia.
*
Author to whom correspondence should be addressed.
Received: 7 July 2012 / Revised: 3 August 2012 / Accepted: 7 August 2012 / Published: 13 August 2012
Abstract
Biginelli reaction of ethyl acetoacetate, thiourea and the appropriate aromatic aldehyde was used to produce ethyl 4-aryl-6-methyl-2-thioxo-1,2,3,4-tetrahydro-pyrimidine-5-carboxylates, that reacted with bromomalononitrile to give ethyl 3-amino-5-aryl-2-cyano-7-methyl-5
H
-thiazolo[3,2-
a
]pyrimidine-6-carboxylates rather than the isomeric 7
H
-thiazolo[3,2-
a
]pyrimidines. Thiazolopyrimidine derivatives reacted with carbon disulphide to yield ethyl 9-aryl-7-methyl-2,4-dithioxo-2,3,4,9-tetrahydro-1
H
-thiazolo[3,2-
a
:4,5-
d'
]dipyrimidine-8-carboxylates, that reacted with phenacyl bromide to produce ethyl 8-methyl-10-(4-methoxyphenyl)-3-substituted-5-thioxo-2(un)subatituted-10
H
-thiazolo[3'',2'':1',2']pyrimido[4',5':4,5]thiazolo[3,2-
a
]pyrimidine-9-carboxylates. The aforementioned reactions were carried out using both conventional chemical methods and with the assistance of microwave irradaition. Comparison between both methods showed that the microwave assisted method is preferable because of the time reduction and yield improvements achieved. The new compounds were tested for their biological activity as antioxidants, antibacterial or antifungal agents. Some of the new compounds were found to have moderate to good antioxidant and antimicrobial activities.
View Full-Text
►

▼

Figures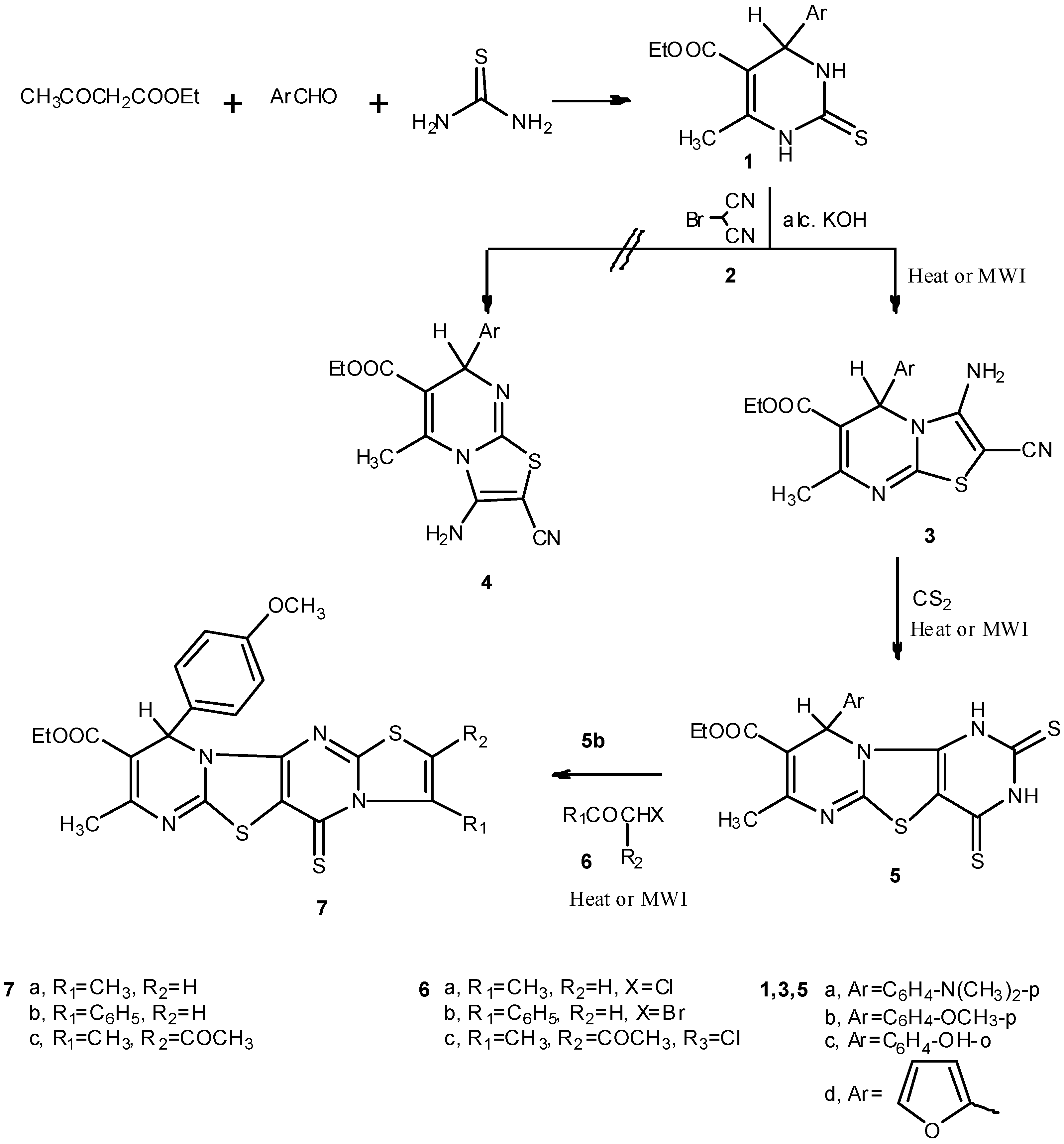 Figure 1
Share & Cite This Article
MDPI and ACS Style
Youssef, M.M.; Amin, M.A. Microwave Assisted Synthesis of Some New Thiazolopyrimidine, Thiazolodipyrimidine and Thiazolopyrimidothiazolopyrimidine Derivatives with Potential Antioxidant and Antimicrobial Activity. Molecules 2012, 17, 9652-9667.
Related Articles
Comments
[Return to top]