Chemical Composition and in Vitro Evaluation of the Antioxidant and Antimicrobial Activities of Eucalyptus gillii Essential Oil and Extracts
1
Laboratoire des IMRCP UMR CNRS-5623, Université Paul-Sabatier, 118 route de Narbonne, Toulouse F-31062, France
2
Laboratoire de Physicochimie des Matériaux, IPEST, La Marsa 2070, Tunisia
3
LGC UMR 5503 (CNRS/INPT/UPS), 1 Avenue de l'Agrobiopole, Castanet-Tolosan 31326, France
*
Authors to whom correspondence should be addressed.
Received: 28 June 2012 / Revised: 25 July 2012 / Accepted: 26 July 2012 / Published: 9 August 2012
Abstract
In this study, essential oil and various extracts (hexane, petroleum ether, acetone, ethanol, methanol and water) of
Eucalyptus gilii
were screened for their chemical composition, antimicrobial and antioxidant activities. The essential oil chemical composition was analyzed by gas chromatography-mass spectrometry (GC-MS) and gas chromatography-flame ionization detection (GC-FID), respectively. Thirty four compounds were identified, corresponding to 99.5% of the total essential oil. Tannins [104.9–251.3 g catechin equivalent (CE)/Kg dry mass], flavonoids [3.3–34.3 g quercetin equivalent (QE)/Kg dry mass], phenolics [4.7–216.6 g gallic acid equivalent (GAE)/Kg dry mass] and anthocyannins [1.2–45.3 mg cyanidin-3-glucoside equivalent (C3GE)/Kg dry mass] of various extracts were investigated. Free radical scavenging capacity of all samples was determinedt. In the 1,1-diphenyl-2-picrylhydrazyl (DPPH) assay, the IC
50
of essential oil was 163.5 ± 10.7 mg/L and in the 2,2'-azinobis-3-ethylbenzothiazoline-6-sulphonate (ABTS) assay, it was 94.7 ± 7.1 mg/L. Among the various extracts, the water extract showed the best result (IC
50
= 11.4 ± 0.6 mg/L) in the DPPH assay which was comparable to vitamin C (IC
50
= 4.4 ± 0.2 mg/L). The antimicrobial activities were evaluated against different bacterial and fungal strains. Gram positive bacteria were found to be more sensitive to the essential oil and extracts than Gram negative ones. Anthocyanins seem to have a major effect on the growth of
Bacillus subtilis
(R
2
= 0.79). A significant antifungal activity was observed against the yeast and fungi. Correlations between chemical composition and antioxidant activities were studied and R
2
values were about 0.96 for the effect of phenolics on the DPPH assay.
View Full-Text
►

▼

Figures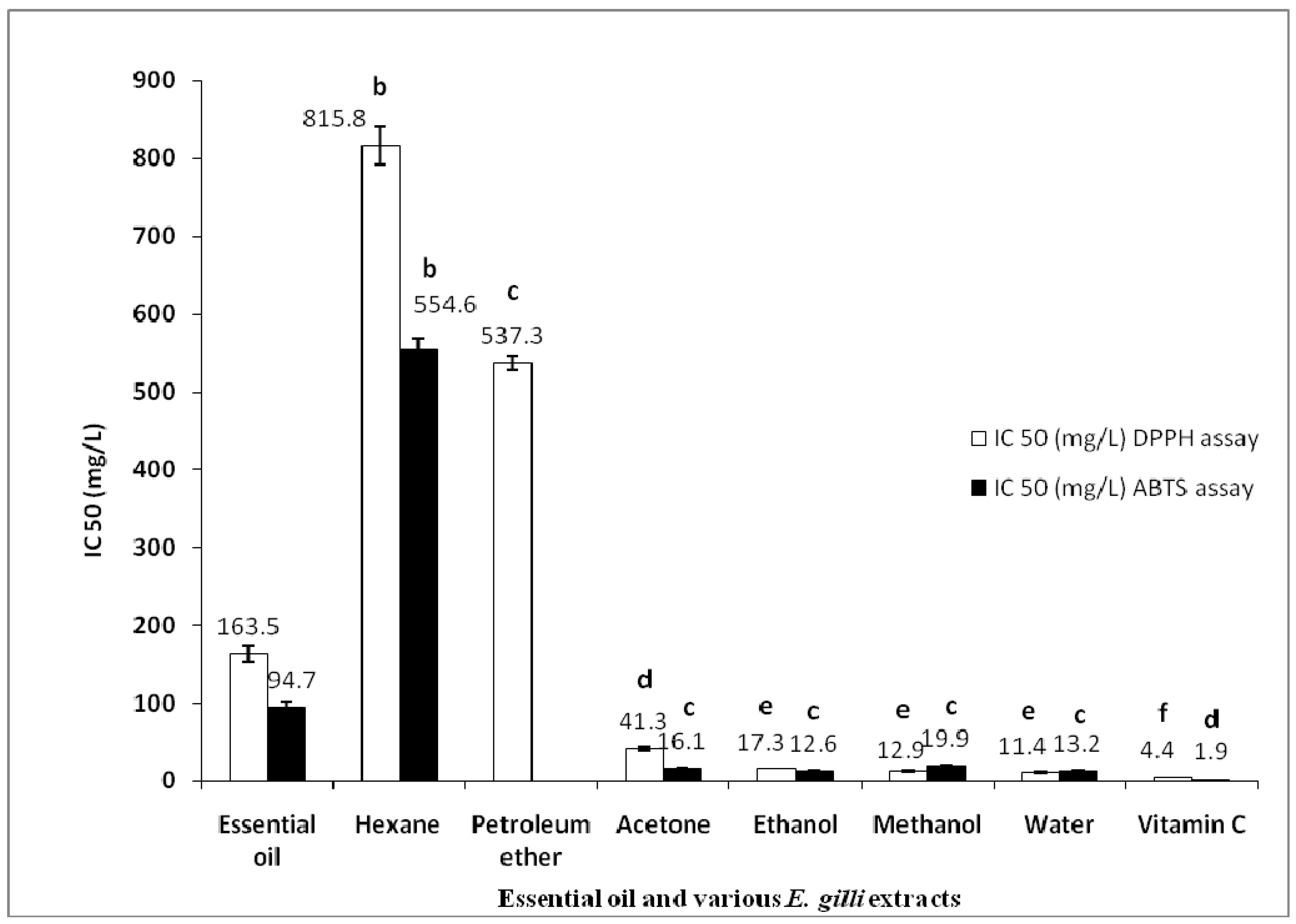 Figure 1
Share & Cite This Article
MDPI and ACS Style
Ben Hassine, D.; Abderrabba, M.; Yvon, Y.; Lebrihi, A.; Mathieu, F.; Couderc, F.; Bouajila, J. Chemical Composition and in Vitro Evaluation of the Antioxidant and Antimicrobial Activities of Eucalyptus gillii Essential Oil and Extracts. Molecules 2012, 17, 9540-9558.
Related Articles
Comments
[Return to top]